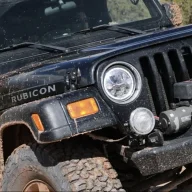 T3G Level: Silver
T3G Supporter
Messages

78
Location
First Name

Tom
T3G Member

#3,526
Hey everyone,
Thought I would introduce myself as I'll be poking around some and asking questions for an upcoming overland build. I live in San Francisco right now, and I come from the world of Jeeps, I have an 2005 LJR, I just got back from Moab a couple of weeks ago with it, I have redone all the suspension which I did all my own work on (4" savvy short arm and 35's among a large list of other items) on it and I have a good idea on how the suspension and travel all works together for Jeeps. I'll probably pay to have more of the work done on a tacoma, I'm not sure I have the time/energy to invest in another large build via DIY. I like the feel of this forum so far, seems like a TJ specific forum I visit where it's specialized and lots of useful information without getting drowned out like some of the larger forums.
That being said, I'm new to IFS and fairly new to Tacomas. Right now in the planning stage but the current idea is to get a DCSB Cement OR in the winter (sort of waiting for the 2020's and until after camping season). I have a decent idea of what I'm going to do (probably a tunable ~2" lift with 33's, I like CBI fab's stuff a lot, camper with eventual RTT) but lack some specifics on the exact products I'm picking out just yet. Like I said, the big inspiration on this build is to be more overland inspired, as that's more of what I do, and the Jeep lacks the space and comfort to do it as nicely as I'd like.
Thought I'd introduce myself incase you see me on some of the threads. Here is some pictures of the jeep:
During early build days - replacing PO suspension with better components
Hollister
White Rim Road
Top of the World.