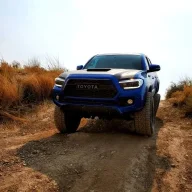 Messages

7
Upvotes Recieved

5
First Name

Austin
T3G Member

#1,820
Hey guys! I figured I would share my build and further build.
I have a,
2017 Toyota Tacoma blazing blue Pearl TRD Off-Road 6 speed manual transmission with premium technology package.
I bought the truck when I was in sales at a Toyota dealership, got my name on the truck before it was even built.
Here's what's done so far,
EXTERIOR
Trd pro grille
Trd pro headlights
Tinted taillights (not too dark, not too much chrome)
5% tint in the rear 15% in the front
Tinted fog lights
Tacoma bed inserts
OH! and a whole lot of plasti dip! (Covering up that ugly chrome badging)
INTERIOR
A LOT of Nevada dirt and dust!
And some stains from my wife lol.
SUSPENSION
3" level up front
1" in the back
285/75r16 Atturo trailblade M/T
16x9" rims with a -0 offset (some les shwab brand I forgot, was my only option)
LIGHTING
opt 7 led low beams
Some redneck cheap rock lights
Led license plate lights
Pretty basic so far, however, it is appealing on and off road. I'm slowly working up to the way I want it.
Near future additions,
- Total chaos spindle reinforcement kit (ordering this week)
- 2" add a leaf for a total of 3" in the rear
- Toyo open country R/T 315/75r16
- whole lot of cutting in the wheel wells, CMC mod, pinch weld cut and seal, welding cab mount plate and painting.
Here's when I first bought the truck compared to now. I hope to have king longtravel by the end of this year but we will see...
To now..
Check out my Instagram page and give it a follow to tag along with me on my adventures and builds!
https://www.instagram.com/nv_blazin_trd/?hl=en
Or
nv_blazin_trd
Thanks for checking it out! ??
Last edited: