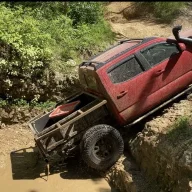 T3G Level: Platinum
Moderator
T3G Supporter
Messages

478
Location
First Name

Jason
Military Service

Army
T3G #

2,122
That's right. The awesome people over at Marlin Crawler have developed a tacobox for the 2016-2019 Tacoma. They can be installed on either automatic or manual transmissions.
I am in no way a sponsor for them but wanted to share the technical aspect of these boxes. I have had a lot of questions and hopefully this will help answer all those. I am simply posting this due to the awesomeness it brings and the control you can have with off-roading.
Do I think it is a must have for everyone? Probably not. But, if you are into real rock crawling and testing your truck to see what it can do, this is probably for you. I stumbled upon the videos on YouTube and I was hooked. So hooked, I ordered a tacobox for my truck less than 3 weeks after finding out about it
*This is taken straight from Marlin Crawler, feel free to check them out yourself.
What does the TacoBox do?
The TacoBox has three shift positions that may be engaged from a stop at any time:
High: High Range is 1.00:1 so shaft speed & torque enters and departs at the same rate and is used for normal City and Highway driving. The ECU and all associated systems such as cruise control, traction control, stability control, the full ensemble of Toyota Safety Sense, ABS, ATRC, and Crawl Control, function normally. City and Highway Fuel Economy is unaffected. The truck will feel and operate 100% like factory both on-road and off-road, 2WD or 4WD. The TacoBox is simply bypassed.


Neutral: Neutral is a fully neutral position and allows for such things as flat towing without any damage to your transmission. In fact, many electronic shift Toyota transfer cases do not have a Neutral position. The TacoBox fixes that.


Low: Low Range is our famous Marlin Crawler 4.70:1 ratio. When engaged, your truck instantly becomes 4.7-times more capable and will blow your mind at how much control the truck has and how easy it gets up and down obstacles.
The end result will look like this:
Engine > Transmission > TacoBox > Transfer Case
... thus transforming your 2-speed (High/Low) factory transfer case into a
4-speed
TacoBox-equipped transfer case as follows:
Factory 2-speed T/Case

High Range (1.00:1)
Low Range (2.57:1)​

TacoBox-equipped 4-speed T/Case

High Range (1.00:1) ← TacoBox in High, T/Case in High
Factory Low Range (2.57:1) ← TacoBox in High, T/Case in Low
TacoBox Single Low (4.70:1) ← TacoBox in Low, T/Case in High
TacoBox Dual Low (12.08:1) ← TacoBox in Low, T/Case in Low​
In a 5-speed transmission example, the truck will now have 20 different forward gears and 4 reverse, making it a
24-speed truck
!
What's not to love about it?
I am in week 1-2 of the 6-8 week time frame I was given. I'm itching to get mine so I can get it installed. I will be installing it myself, so lots of pics and probably some videos will come along with it.
In the meantime, check out Marlin Crawler on YouTube. Some of the things the Tacobox allows the truck to do, will blow your mind.