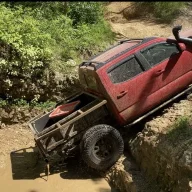 ✓ • Aficionado
Tacoma3G Supporter
Tacoma3G O.G.
Messages

2,041
Reaction score

2,370
Location
First Name

Jason
Truck Year

2018
Truck Color

Barcelona Red
Truck Grade

SR5
Cab & Bed

Double Cab, Short Bed
Transmission

Automatic
T3G Member

#2,122
Selling the Marlin crawler tacobox out of my truck. If you do not know what this is, look at Marlin Crawler videos on YouTube. It's basically as second transfer case that allows for dual low. No electronics to it.
Only works with auto transmission
Comes with Tacobox, driveshafts, center console.
I will need your console and shafts in return.
$2400.
Can't get these anymore. This one has around 6-8k miles on it. No issues.
My YouTube videos will show you how to install it, where to cut the hole and the center console is already setup for the shifter. You will need to add 3 qts of fluid and extend your transfer case wires 6-8 inches. Other than cutting the hole in the floor, that is about it. Can be done in a few hours. Driveshafts are cut and lengthened already, by a custom driveshaft shop.
I'm only selling due to blowing the motor and swapping a 1uz in it. So a whole new motor and trans.
Have to pick up in Missouri. I'm about 20 mins south of St. Louis. Will not ship.