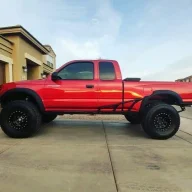 Messages

9
Upvotes Recieved

20
First Name

Justin
T3G Member

#710
Hey guys,

Arizona guy here with a 1st gen. I heard this is the new place to be. I was/am pretty active on TW and the gram. We all do it for the gram right?


Anyways, I've got a 01 4x4,v6,5spd at the time of this post she has roughly 127k miles. Along with this is a work bench of broken parts.... The jist of my rig as follows

Suspension:

JBA UCA's after alot of reading on their balljoint that articulates more than a uniball.
Donahoe Ext travel CO's
Dakar leafs
Billy 10" rears.

Drivetrain/rubber:

4.56s locked front and rear
ProComp 252's
285/75/16 Toyos but am in the process of going to 315/75/16s.

Armor:

TG front bumper
Custom sliders with kickups for the bed and quarters
Rear HC bumper with hidden hitch.


Any of the AZ boys know I like to get down so here are some pictures of my shitbox in action.
Last edited: