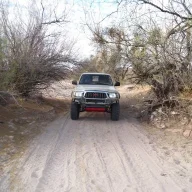 Messages

52
Upvotes Recieved

103
First Name

Steve
T3G Member

#686
Hey guys. I don't have a 3rd gen but I do have a 1st gen and this is my build/BS thread. Feel free to come and have fun.
I have 03 peerunner. It is 2wd but soon that shall change when I get a daily and finish collecting parts to do a conversion. This is what I have on my current set-up. Yes I take her out on the dirt.
This is what she looked like when I first picked her up. Untouched virgin taco :')
Installed everything myself except for the retrofits and stereo stuff. Electrical isn't my specialty.
SUSPENSION
OME full suspension
(881 coils, Dakar leaf pack, nitrocharger shocks)
LIGHTING
Retrofits with Apollo 3.0 and H1 7.0 projectors
Spyder tail lights
SHOES
Stock wheels
32' Cooper ST/MAXX
Armor
None yet but that'll change
MISCELLANEOUS
10' Kicker Comp C
Uniden Pro520XL CB radio
Cobra magnetic antenna
Last edited: