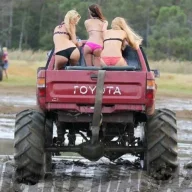 Messages

113
Upvotes Recieved

225
Location
First Name

Nate
T3G Member

#677
Greetings all!
First want to thank the site admin for welcoming our group of people. We have a lot of fun and post a lot of BS but there's also no shortage of knowledge and tech.
I don't have a third gen taco...but I do have a 3rd gen 4runner lol.
I also have a gx470 that I'm hoping to turn this into a build thread for.
The 4runner is fine at status quo. It's never left me stranded or wanting more. It's taken me anywhere I've ever wanted and places I probably shouldn't.
Specs on the 4runner
'97 limited anthracite
4.30 gears
E-locker
255/85r16 maxxis mud terrain
Warn manual locking hubs
Ome suspension all around
Swaybar delete
ARB front bumper
Warn 9k winch with synthetic line
Tundra brakes
Other misc. BS that I always forget.
Specs on Lexi
05 gx470 blizzard pearl white
Factory gunmetal wheels
All stock
Plans:
Konig countersteer type X in mag blue
285/75r17 nitto ridge grappler
Dobinsons mrr remote resi all around
Rear air ride delete
Hidden winch mount
Trimmed front and rear bumpers
Intake/exhaust
Headliner drop down DVD player for kids
Harrop e locker
Dobinsons UCAs
Sliders
Other shit that I always forget.
I also have a '79 square body Chevy 4spd manual 4x4 that I'm going to throw a 6.0 LS in with a 6spd auto.
My last ride is my '86 115lb wife.