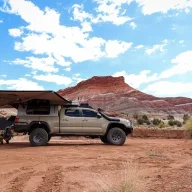 ✓ • Connoisseur
Tacoma3G Supporter
Tacoma3G O.G.
Authorized VF Tuner
Messages

2,237
Upvotes Recieved

3,147
Location
First Name

Andy
Truck Year

2017
Truck Color

Quicksand
Truck Grade

Off-Road
Cab & Bed

Double Cab, Long Bed
Transmission

Automatic
T3G Member

#184
Serious Prospective Buyers Are Encouraged to Message Directly to Discuss Further.
The time has come for us to say goodbye to our beloved Tacoma. It has been a phenomenal truck and we have no doubt it will treat the next owner just as amazingly as it has us. Please take the time to read through this entire sale post so you can get a solid understanding of what makes this Tacoma one of the best out there. We have spared no expense and built our ultimate travel rig, having received the ultimate compliment multiple times of "you built my dream truck." We did so because we had no intention of selling it, but alas we really enjoyed the process and are wanting to do another build.
What started off as a bone stock 2017 Toyota Tacoma TRD Off-Road Double Cab Long Bed 4x4 with the technology package, sunroof, JBL sound system, tow package, rubber floor mats, and bed mat rapidly turned into our ultimate travel Tacoma. We purchased the truck with the intent of creating something that could take us anywhere, at any time and we succeeded. Over the past 4 years the build snowballed into a go anywhere, on any trail, exploration vehicle. This truck has been all over the Western United States and has never let us down. This is a turnkey Tacoma that you could pick up, put fuel in, load the fridge, and hit the road for weeks without issue or hesitation.
An extensive service history and receipts folder almost 2" thick will go to the new owner. The truck has been regularly maintained by a trusted Toyota Master Tech and trusted shops at early service intervals. The vehicle has been well cared for inside and out and while it has most certainly been used to travel as far as we wanted, and has the pin stripes to prove it, however it has never been abused and was always kept clean inside and out. We built this truck with the intention to keep for a long time and not to just beat on. The truck has
never
been jumped and will happily hold its own on any dirt road taking you wherever you desire.
This vehicle has an extensive show history and has been featured numerous times by many of the best aftermarket parts manufacturers in the industry including a national television ad campaign with Toyo Tires. The truck is also currently displayed on the C4 Fabrications website, was an exhibitor vehicle at the 2019 Overland Expo, and has been displayed for Dirt King Fabrication and Toyo Tires, as well as in print media for Fifteen52 and Baja Designs. The truck has been an integral part of our fundraising efforts for the past few years and with the support of our sponsors and the off-road community has helped raised over $45,000 for first responder related charities.
The truck is heavily documented on our Instagram our
@taco_nobodys
.
The truck has two separate build threads that chronical most of the build. They can be found at the links below.
Mr. and Mrs. Nobody's Quicksand DCLB - Full Armor, Vagabond Drifter, Overland build | Tacoma World
And
Mr. and Mrs. Nobody's Quicksand DCLB | 3rd Gen. Toyota Tacoma Forum | Tacoma3G.com
A full list of our articles, features, reviews, and media can be found on our Google Site…
@taco_nobodys site
Purchase options: Color coded for ease of reference


$50,000 for the truck and whatever is bolted to it, minus the Vagabond Drifter Camper.
$60,000 for the truck with the Vagabond Drifter Camper and all Drifter specific accessories. Vagabond Drifter sold separately for $12,000.
We have started parting out the truck and will sell all spares, extra parts, camp gear, and most recovery gear separately. Please see below for full list.
Current Mileage is right around
65,500 miles
.
Title in Hand.

Pros:
Ready to go anywhere
Zero wait times on many products with extremely long lead times
Interior has never been brutalized like many truck owners do and is extremely clean
No electrical issues in either the OEM or Aftermarket systems
The headache of building a truck of this level has been dealt with for you
Cons:
The truck does, as expected have its share of pinstriping and minor dents / paint chips.
As the truck currently sits....
Exterior:
All Exterior Badges Removed

The Taco Garage Faux TRD Pro Grille

Window Tint (15% front sides, 20% rear sides & back)

AVS In-Channel Vent Visors

Front Fenders Trimmed and Clearanced for 35's

Spotter Mirror Heated Blind Spot Mirrors

Prinsu Design Studio Double-Cab Cab Rack with a Standard Wind Deflector and Noise Reducing Trim

MESO Customs Gasshole
Engine:
Orange Virus ECU/TCU Tuning Package (2.0 Final) -Truck will be flashed to any tune the new owner would like before taking off. Currently running OV 2.0 Final, 91 Octane, 33", 5.29, Gear Lock, Throttle Enhanced, with modified alternator output for AGM battery.

Group 31 AGM Dual X2 Marine Battery mounted in Rago Fabrication Group 31 Battery Box

SDHQ OFFROAD Built HD Billet Main Battery Terminal Upgrade Kit with Negative Battery to Body 16" Ground Cable

DIY A/C Drain Mod

Dobinsons 4x4 Snorkel with Snorkel Upgrade 3.5 Inch Inlet Adapter & Series 9001 Air Precleaner for Gas Engines Up To 4.8 Liters

Fumoto F133S Oil Drain Valve
Drivetrain:
DIY Differential Breather Relocation

4 Degree Axle Shims

Nitro 5.29 Gears bought from Battle Born Off-Road and installed by Brothers 4x4 in Montclair, CA on 10-24-19 @ 42,600 miles
Interior:
Screen ProTech Kit

The Taco Garage Dashtop Multi Mount with 2 - 1" Ram Balls

MESO Customs Interior Chrome Delete Kit

MESO Customs Vent Ring Kit

Solex Organizers in center console

VW mat stays added to passenger factory mat

Full interior sound deadening by @jackofallyotas
Armor:
FabZone Armor DCLB Sliders 90" Tapered, Kick Out, Bolt On, with Filler Plates – freshly powder coated matte back less than 5,000 miles ago

FabZone Armor Front, Mid and Rear Skid Plates – matte black powder coat

C4 Fabrication

Hybrid Front Bumper

Satin black powder coat

Full Height Bull Bar

Side Tube Gussets

Center LED 30" Bar Cutout

C4 Fabrication

Overland Series High Clearance Rear Bumper System

Satin black powder coat

Single Full Length Swing Arm (Driver Side Pivot)

Spare Tire Carrier

Hi-Lift Horizontal Mount

Dual Jerry Can Holder

Dropdown Camp Table

CB Antenna Mount

Side Tubing

Factory Rear Camera Relocation Mount

Reverse Light Cutouts

Parking Sensor Hole Cutouts

License Plate Mount
Recovery:
Smittybilt X20 Winch (10,000 lb.) with synthetic line and Factor 55 Hawse Fairlead, Rope Guard & FlatLink E Shackle Mount Assembly
Suspension:
Elka Suspension 2.5 DC Reservoir Front and Rear Shocks Kit

Dobinsons Heavy Rear Leaf Springs (5 + 2 leaves)

Archive Garage Hammer Hangers & Greaseable Shackle Hangers

Wheelers U-Bolt Flip Kit

Dirt King Fabrication Ball Joint Upper Control Arms

Dirt King Fabrication Ball Joint Performance Lower Control Arms

FabZone Armor Cab Mount Chop

FabZone Armor Spindle Gussets

Superbumps Front & Rear Bump Stops

Energy Suspension Universal Body Mounts
Wheels/Tires:
Fifteen52 Turbomac HD Classics in Carbon Gray 17x8.5" 4.5" backspacing

Toyo Tires 285/70/17 Open Country A/T III

Remmen Brakes crossed-drilled and slotted rotors with Rockies series pads

Gorilla Automotive Small Diameter 6-Lug Kit

Spydertrax 1.5" Spacers on front and rear
Audio/Electronics:
Cobra Handheld CB Radio and Firestik 3' Tunable Tip Antenna (with Antenna Spring, Cable & Connector)

TRDMod Rear Camera Anytime Mod

TRDMod Navigation in Motion Override

Switch-Pros SP9100 8-Switch Panel Power System on a FabZone Armor mounting plate with a 10-circuit buss block and fuse panel

SDHQ OFFROAD Switch-Pros Power Panel Mount in cab

12v Power to a mounting plate in bed with a dual USB charger, cigarette outlet charger, and LED battery monitor gauge
Lighting:
Xenon Depot LED Low and High Beam Headlight Kits

Baja Designs Squadron-R Sport pair with Amber Wide Cornering lenses mounted on front bumper

Baja Designs S2 Pro, Flush Mount pair with Driving/Combo LED mounted in rear bumper
Bed:
Mountain Hatch Black on Red Tailgate Insert

Rago Fabrications Bed Channel Stiffeners

Pop & Lock Power Tailgate Lock tied to factory locking system

ESI ROK Block Tailgate Gap Cover

Ultra-custom TRD bottle opener
Stock OEM Parts:
(2) Rain Channel Covers (uncut)

Gears (stock ratio)

Bump Stops

Spare Tire Mount (for under truck), lowering kit, and bottle jack

(4) Bed Rail Tie Down Points

License Plate Light

Blind Spot Wiring Harness

(3) Headlight Bulbs

Switch Hole Base

2 Tacoma Badges
Vagabond Outdoors Drifter:

Standard Options Plus:
Driver Side Frontrunner Gullwing Door

Passenger Side: Frontrunner Gullwing Door

Lower Level Lighting

Interior Ceiling Light

Prewire for Solar

Fan-Tastic Fan

L-Track Roof Mounts

Side Insulation with Paneling
Additional Addon Items:
Alu-Cab 270 Shadow Awning (installed by Vagabond Outdoors)

(3) 53" Frontrunner Slotted Crossbars and (6) 50mm Tall Towers

2 Bed Extensions

Strawfoot Handmade Rear Hatch Bug Screen

Strawfoot Handmade Front and Rear Window Covers (black)

Two-Step Folding Step Stool

(4) Wall Mounted Shoe Racks

(2) Two Way Graduated Level

(2) Interior Gullwing Door Pulls

All metal zipper pulls replaced with Nylon Cord Rubber Grip Zipper Pulls

New Bulb Seal (8/5/2021)

Lighting Panel Connectors (new version, not installed)

(2) Spare Key Sets

(4) Full Spare Bed Mounts and (2) top halves of mounts
Spares, Extra Parts, Camp and Recovery Gear Not on Truck
Baja Designs Lights
30" Onyx 6+ Driving Combo LED Light Bar (white)

30" RTL-S Rear Chase Light

Squadron Pro Angled Flood Light Set (white)

LED Dome Light with Switch (red)

Rock Light Kit (red)

Squadron Pro Pair with Amber Driving/Combo Lenses

S2 Pro Pair with Amber Driving/Combo Lenses

S1 Pair with Work/Scene LED

RTL-B Rear Chase Light (blue)

Ditch Light Cover Set

Extra Squadron Combo Lens Set with Seals (white)

Extra Squadron Combo Lens Set without Seals (white)

Extra S2 Lens Set with Seals (white)
Other Lighting
Aspire Auto Accessories "The Brite Box Fogster"

The Taco Garage M4S Bezel for Baja Designs Squadron pods (1 set)

Rago Ditch Light Bracket Set
Audio/Electronic
Weboost Drive Reach OTR Cell Signal Booster mounted on a Rhino-Rack Folding Aerial Bracket with aWilson Desktop Cellular Antenna for cab interior

Veepeak OBDCheck BLE OBD2 Bluetooth Scanner

Pedal Commander
Recovery
Hi-Lift Jack with Slider Adapter and Base

DIY CO2 Tire Inflation Kit with custom mount

(2) X-BULL Recovery Traction Tracks

(2) Jerry Cans (red)

BulletProof Front Tow Hook

Smittybilt Receiver Hitch & Pin

HitchSafe Receiver Vault
Camp
(2) Roam 95L Rugged Cases in Sand with 2 Bench Cushions in grey waterproof fabric

So-Cal Teardrops Fridge/Stove Combo Slide

So-Cal Teardrops 5 lb. Propane Bottle Mount

Mr. Buddy Propane Heater

Nemo Shower Bag

Green Trasharoo
Exterior/Interior/Bed
Pelican iM3100 Storm Long Case (drilled for east to west mounting on Prinsu rack)

MESO Customs Ultimate Turn Signals

Blue Ridge Overland Gear Tacoma Attic

TRD Shift Knob

WeatherTech Insulated Sunscreens for all Windows

Tie Down Anchors (1000lb, Set of 10)

Quick Fist Set
Spares and Extra Parts

OEM
Replacement Quicksand Front Fender Set

Replacement Quicksand Rear Bed Side Set

Quicksand Rear Bumper End Caps

TRD Exhaust Tip

Front Grille and Lower Trim Piece

Fog Light Housing Set

Fog Light Set

Side Mirror Set

Lugnut Set
Spares
(6) Spark Plugs

(3) Oil Filters

Oil Seal

Intake Air Filter

Tie Rod

Inner Tie Rod

Serpentine Belt
Aftermarket Parts
Brand New Nitro 8.75" 5.29 Rear Ring and Pinon Set

Dobinsons Rear Polyurethane Leaf Spring Bush Kit with Greaseable Pins

8" Clamshell Bushing (replaces needle bearing if needed)

F133S with LC-10 S-Series Large Body FUMOTO Valve with Short Nipple and LC-10 Lever Clip for 12mm-1.25

Fumoto F133N Oil Drain Valve with Heavy Duty 3' Hose Kit - S/S F103N

Dobinsons Snorkel Head
Serious Prospective Buyers Are Encouraged to Message Directly to Discuss Further.
Thank you for looking and please enjoy the following photos and links to various media featurettes of the truck throughout its young life.
#TOYOTIRES AT 1000 FPS | [4K] - YouTube
ANY VEHICLE. EVERY TERRAIN. | #TOYOTIRES - YouTube
Andy and Nicole's 2017 Quicksand Toyota Tacoma - Truck Brigade
A Firefighting Family's Official Guide to Off-Grid Camping (govx.com)
Turbomac HD [classic] | Monoblock Wheels, Forged Wheels & Accessories | fifteen52 - fifteen52
Tacoma Overland Series High Clearance Rear Bumper / 3rd Gen / 2016+ - C4 Fabrication
2020 Adventure Expo - (dubmagazine.com)
Dirt King Fabrication | 2019 Off-Road Expo - 5 Years In The Making
Reader's Rig Featured in 4WDrive 21.7 - SunCruiser (suncruisermedia.com)
Rigs & Brews - YouTube
Moustaches and Tacomas - Meet Andy aka Taco_Nobodys, Firefighter & Subscriber - YouTube
Last edited: