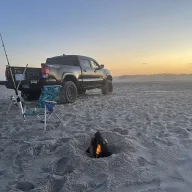 ✓ • Gold
Tacoma3G Supporter
Tacoma3G O.G.
Messages

281
Upvotes Recieved

179
Location
First Name

Charlie
Truck Year

2017
Truck Color

Midnight Black
Truck Grade

Sport
Cab & Bed

Double Cab, Long Bed
Transmission

Automatic
T3G Member

#3,824
Howdy, Im Charlie, Alias OC Taco Beach Bum Charlie. I have been on the forum for about 2 years now. Best page out there, and shout out to Tyler for a great Job, creating, building, and maintaning this page for some great research, and just general fun exchanging photos with other people in Taco Nation.
My build finally got the boost that it needed, and it looks awesome, and rides so much better then Stock.
This is my second Tacoma. She is a 2017 TRD SPORT, Dble cab Long Bed, with Hood Scope. I bought it certified used only had 12,500 miles on it , 2 years ago, and her nickname is My Nubiaan Queen. She steals my money. ....
When I first joined Tacoma 3 G, and found the build threads. I probably read each one, and still do. I researched, ask, myself what kind of 4 wheeling do I do.What did I not like about my last Toyota, and what I want to accomplish with this truck.
I found my answers here, through all of you and Taco Nation!!!
I went with the Bilstein 6112 front Shocks. Paired with Old man Emu ,upper front Control Arms . My Bilstein 6112's . took 6 months to get, so I am still alittle sore about that. but I love the feel of the truck now.They look fantastic, ride awesome.
My back set up 2.5 inch HD OME Dakar leef springs and Bilstein 5160 rear resivoir back shocks
My tires, I went back and fourth over. I was going to pull the trigger on some Cooper St Max Dicovery, and went with the suggestion from my shop, where I do business with, and I went back to the Toyo Open county All Terrian III. I had Toyos on Stock, and got over 45,000, before I got a flat, so very confident with the selection in Toyo"s..
My rims, are Black Rhino 'Kelso'' I really did the black and grey look my truck has going on!!!
The reason I choose my setup, is that I am mainly a road driver, and beach 4 wheeler. With the occasional muddy fields, out hunting!!
There are a lot of great shocks, lift kits on the market. All wher having problems with parts this year. Some probably had the extreme high trier market items in stock. But I have a budget of 6 G, for wheels tires, and suspension, So, right now, I am about $1g over, and very happy with what I have purchased.
Like most, My first add on was my AVS, extreme low profile vent shades for the widows, and it was just the beginning..
One of my favorite adds, is my American Flag!!! and I stand behind it proudly!!!!
Next, came the cali raised Front Grille, side ditch lights, all of my iside switches, are all from Cali made
I have my stash of goodies in the back at all times, Recovery gear is a must, jacksm axes, shovels tools. got to have them!!!!
So, Next, I already have on oder my Black Cat Exhaust, and my cold air intake. I am getting them from AFE. They hopefully arrrive in a few weeks.
Still have many upgrades planed. Stay tuned more is coming!!! And ty in advance to Tacoma Nation!!!!!