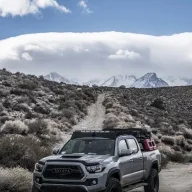 T3G Member

#3,037
Messages

1
Reaction score

4
Location
First Name

Bryan
Truck Year

2018
Truck Color

Cement
Truck Grade

Off-Road
Cab & Bed

Double Cab, Long Bed
Transmission

Automatic
Instagram
Hello fellow taco lovers!
Little back story wouldn't hurt i suppose...Been wanting a 3rd gen ever since they came out. Instantly fell in love with the design and remembering saving photos on my iPad thinking one day I was going to buy one. Fast forward to March of 2018...paid off my Harley, cancelled my Tesla Model 3 pre-order and went all in on the Tacoma. Timing was perfect in my mind. Cement was introduced into the non-pro line up and I never looked back.
Being that I love to get out and explore the outdoors, owning this truck has enabled me to do exactly that to an exponential level. Ultimately my goal is to make this truck as functional and practical while maintaining a clean, aggressive, look. To achieve this I obviously have been getting countless ideas from other owners while adding some of my own flare - I'm pretty big on DIY, most of the work has been and will continue to be done by me, with the exception of some future mods down the the line.
Mods:
Wheels & Tires
Volk TE37X 16x8 -20
BF Goodrich KO2's 285/75/16
Suspension
Old Man Emu 2" Kit
Dakar leaf pack
Miscellaneous
Custom Roof Rack
Custom Bed Rack
BHLM
Auto Ventshade 21681 Hoodflector
SmittyBilt RTT
TRD PRO Grille
TRD PRO Tail lights
TRD Sport Hood
Armor
TRD PRO Front Skid Plate
Cali-Raised Sliders
Lighting
Cali-Raised LED light bar
Future Mods
C4 Hybrid Front Bumper (arriving late April)
Custom DIY Rear Bumper w/ Swing arm
4.88/5.29 gears
Squadron Pro combo fog lights
Kings full suspension w/ UCA
ARB Desert Intake
New Custom Bed Rack
Day 1: March 11, 2018: Day I brought the taco home.



Couldn't help but take in on my first trip up to Castaic Lake on the same day.



I remember very meticulous about keeping the truck clean LOL. Waxing it once every two weeks being afraid of water spots smh
First order of business was chrome delete. Took off the badges right away and sprayed the chrome grille surround along with the bumper caps.


Two weeks later came across a hood swap from someone who was trading in his 2wd sport model. The hood alone makes a monument change in the looks of the truck. I lucked out big time.


After about two months i couldn't stand looking at the headlights. So i decided to do black headlight mod and boy was i not prepared for the devil's snot of an adhesive that Toyota used. Holy crap was that torture. Well worth it at the end however as is it was definitely begging for that mod. Also threw on a TRD PRO Grille and taillights as well.

IMG]
https://farm8.staticflickr.com/7800/40492245293_2c5eb66926_k.jpg[/IMG]


Here's the result of that:



First trip with the taco to Sequoia and King's Canyon National Park in June.


Upon the drive back from this trip I came to the conclusion that i really needed to put my money where my mouth. I made a promise to myself that i would take on a solo road trip across several states and national parks. This is when I really put a lot thought into what I wanted from the truck and what i needed to get done as i gave myself a target of first week of October for the trip. So i placed my order for wheels and tires (wheels took over 12 weeks to arrive). July and August didn't do much at all mainly because i was procrastinating the work and mainly waiting for my wheels. So right about the time my wheels were due to come in i started buckling down - i knew i wanted to make my own roof rack and bed rack. I began researching and sketching out the templates from cardboard. Everything was coming down to the wire and basically had two weeks to build everything and put it all together. A lot of long nights after work were spent in the process and all i thought was "why did i procrastinate so much" LOL.
Anywho...Here's when the fun really began:



















Two weeks later here was the end result:


I was pretty much set for the trip and everything worked out just fine. I learned so much from that experience and plan on refining some things on the truck.
After the trip i've been non stop traveling with the truck and looking for any excuse to get away. It's been great! The amount of support and people i've met because of this truck is truly something that surprised me. I've put 20k miles in a year and cannot wait for more adventures and new friendships. I'll continue to post here as i'm pretty stoked about this forum and how neat everything is. I'll also leave this with some photos of the trips since then, thanks for looking!
Yosemite

Lassen Volcanic


Crater Lake


Craters of the Moon


Grand Teton & Yellowstone



Zion

Joshua Tree



Yosemite & Hetch Hetchy



Red Rock Canyon

Bishop CA & Buttermilk Boulders Trail



Munds Park AZ & Grand Canyon


Monument Valley UT for NYE



Mammoth Lakes and Reward Mine







Death Valley & Trona Pinnacles






Hungry Valley and Frazier Park



Last edited: