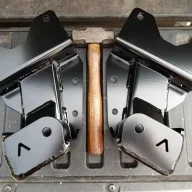 5️⃣ Platinum
Authorized Vendor
Tacoma3G Supporter
Tacoma3G O.G.
T3G Member

#2,623
Messages

102
Reaction score

276
Location
First Name

Eric
Cab & Bed

Double Cab, Short Bed
Transmission

Manual
Instagram
YouTube
Tacoma3G members get 5% ($20+) discount (message for code)
Video with Features and Options:
Original link: https://www.youtube.com/watch?v=6iSQXn6nr24
Details and ordering here:
https://archivegarage.com/explore-archive?olsPage=products/tacoma-hammer-hangers
ALL
leaf springs fit: Deaver, Dobinsons, Atlas, Alcan, All Pro, Dakars, that other brand, you get the idea
Customer Ride Quality feedback*:
"I got my HH and crosstube in the mail and was surprised at how heavy these things are. Compared to the stock hangers these feel like a brick vs a flash card. Once I had mine installed I was blown away by the ride quality improvement. I don't understand why or how, but now my truck rides so much better. I have kings in all 4 corners and no sway bar in the front. On the stock rear the front always felt like a cloud while the rear was super harsh and I felt like my truck would jump side to side all the time. With these HH, my rear rides as smooth as the front now. It soaks the bumps up, and my ass end isn't hopping all over the place. I am still on stock leaf springs and I don't even want to upgrade those now. These HH have completed the ride quality I have been looking for. Only reason I will change my springs is when I get the archive shock relocate so I can get more travel. Overall 10/10 product, would absolutely buy again now that I have felt the difference. I knew ride quality would improve but I didn't think it would improve half as much as it did. Great job on these Eric" (Stock springs)

"I bought a pair of Eric's shackle hangers and they are AWESOME. Completely changed the feeling of the truck...the stock springs that everyone bemoans are totally transformed when their anchors are not flapping like a screen door in a stiff breeze." (Stock springs, 2016 AC)

"The HD Dakar jitters going over bumps is gone and the "feeling" of them being the HD leafs springs is almost gone actually. Almost like most of the reason they felt so rough is that the rear end would flutter/jitter when hitting bumps. It makes the ride with the bed unloaded a lot more bearable and comfortable." (OME)

"After about 2k miles of which 500 was on some of the roughest roads I've been on, I can say that I'm super impressed with these!" (OME Dakars)

"Update after driving it for a couple of days. WOW. Huge increase in how smooth the truck is. The rear end in not getting jarred going over bumps like it was before. The rear just takes the hit and soaks it up like the front end has done for years. Overall, I love the Hammer Hangers and they are built very well! (OME Dakars)

"Just from driving on the street I can immediately tell the improvement in ride quality. Its the real deal guys!" (OME Dakars)

"The truck rides very nice with the new setup... Stable, plush and droop for days with the 5100/B110's. A friend I was with couldn't stop commenting on how smooth the truck felt vs his similar setup on stock hangers and OME shocks(same leafpack and 885 coils). We did about 30 miles of access roads and didn't air down from 35psi." (OME Dakars)

"Oh man Eric , I love the Hangers! Feels so good. Even my passengers that I normally take wheeling noticed how smooth the rear end feels now. Thats saying a lot from regular folks that have no idea" (OME Dakars)

"I have to say it is pretty crazy how it changes the ride quality! It is AWESOME" (AP expo)

"For the hangers and cross tube. Holy crap I cannot believe the ride quality improvement from these. Everyone says it's better, but I guess my expectations were a lot lower because I was blown away when I drove my truck. It's a lot smoother in the rear, and going through turns you can really feel the difference from the rear end being more solid. 10/10 product would purchase again. Next on the list is archive shock relocation kit!" (Spring unknown)

"I was not prepared for such a dramatic change in ride quality after the install. If you haven't already read up on his hangers, I'd highly recommend them" (Icon RXT)
*Results may vary due to hundreds of possible setups and dozens of variables including vehicle load, tire weight and air pressure, shocks, springs brand and spring rate, etc.
Installer Review @liquid_torch:
"I'd also like to give a shout out to Eric @archive_garage, I've installed a few different companies aftermarket Tacoma leaf spring hanger replacements and his is by far the best design, both fit and function wise. This is definitely another great product from his company and I'd recommend this over all the other options and that's speaking from install experience. His hangers are on a whole other level."


Details:
WHAT THEY DO: Hh noticeably improve ride quality, improve handling by reducing rear sway, increase travel capacity (up to 12"-14"), and vastly increase durability over stock flimsy hangers, which cause the annoying Tacoma rear jitters.
Compatible with EVERY Spring Over Axle (SOA) spring pack on the market
Compatible with Spring Under Axle (SUA) conversions (4.0" shackles required)
Properly align parallel to leaf springs
A must for all Tacomas from stock commuter to fully built (No other mods are required to run these hangers)
Height will be very close to stock
Base Kit includes:
(1) Right hand & (1) Left hand hanger, laser cut and CNC bent 1/4" HSLA 50,000psi (30% stronger) plate structure, fully MIG welded. >>>2 stage powder coat: blast, zinc base prime, semi-gloss black top coat<<<
(4) M14 Class 10.9 (Grade 8 equiv) shackle bolts and lock nuts (fits in OME Dakar bushing sleeves)
(8) 1/2" Grade 8 flanged frame bolts and flanged lock nuts Designed with factory rivet bolt pattern, but requires drilling out factory rivets thru to ½"
Written instructions provided. If you have longer shocks, longer brake lines ~24"-26" (20" stock) are required.
Trimming of exhaust tailpipe may be required (generally with shock relocation and SUA springs)
Shackle Options:
Reusing stock shackles (3.4") and OEM rubber bushings are totally fine for SOA (Fab'd shackles extend your lead time)
Select quality poly bushings/sleeves for the stock shackle for 10"-14" travel (must remove the stock metal/rubber bushings)
3.6" shackles fab'd from 3/16" steel, 1/4" wall DOM tube, come assembled w/ poly bushings & grease fitting.
-4.0" shackles fab'd from 3/16" steel, 1/4" wall DOM tube, come assembled w/ poly bushings & grease fitting. (4.0" shackles req'd for SUA, but work with any spring)
Cross Tube Options (*Requires the spare tire be relocated*):
The cross tube option (jig built) is 1.75" DOM x .120 wall steel w/ 1/4" flanges (8 lbs), 2 stage powder coat, includes bolts and 50 state/Guam/PR priority shipping. The cross tube DOES add an additional improvement in ride quality (~20% of hanger improvement), because it connects the 2 hangers and frame rails together for rigidity. This protects the frame from stress when one hanger drags.
DIY your own cross tube: select (2) bolting flanges and (4) bolts. No warranty with this option
Last edited: