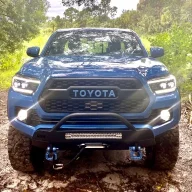 Messages

12
First Name

Jeff
T3G Member

#7,211
Since ACs seem to be the less chosen (especially in the higher trims like the ORs) can we post up some Access Cab builds or build ideas? Why you opted for the AC in the first place, and some of the things you might not like so much that you found out later on?
I choose the AC for the bed length mainly, there was also a price difference from the DCOR and the LBOR comparatively. Rear space isn't an issue since I've have other trucks and vehicles.
Two things that aren't a huge deal but I could say I dislike are the fact there are no factory holes for a roof rack and we don't get the electric sliding window. Both not an issue to me but the factory roof rack holes would be a plus, so I don't have to drill into my roof when mine arrives. I would like to hear others reasons and opinions and see some of the builds!
My 2019 ACOR 4x4 with 65k miles on it without a single issue.