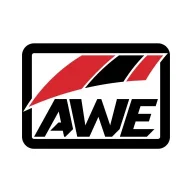 2️⃣ Bronze
Authorized Vendor
Local time

8:43 AM
T3G Member

#10,047
Messages

9
Reaction score

13
Location
First Name

Sara

Presenting the 0FG Catback Exhaust for the Gen3 Tacoma 3.5L
;
The sauce for your Taco:
A true dual catback from inlets to tips – a first of its kind for Tacoma
Handcrafted from dual CNC mandrel-bent 2.5" U.S.-sourced .065" wall T304L stainless steel
Bespoke 2.5" H-pipe and tuned mid-muffler combination provide unprecedented tone
Features AWE's patented drone-canceling 180 Technology®
Engineered to provide ample clearance for 32" spare tires and aftermarket leaf spring upgrades
Modular BashGuard™ is included in every kit to achieve max clearance on the trail
Dual 2.5" diameter facilitates superior flow compared to single 3"
Factory-matched inlet flanges for ease of installation
4.5" double-walled slash-cut tips available in chrome silver or diamond black
Wheelbase extensions are included with every kit
Less is more: clean, straight-through design maximizes performance
Direct bolt-on for factory-like simplicity
Manufactured in-house at AWE
AWE No CEL Guarantee
AWE Perfect Fitment Guarantee
AWE Lifetime Warranty
The 0FG Exhaust
The 0FG is the one-and-only true-dual catback exhaust configuration for the Gen3 Tacoma.
Dual 2.5" American-sourced T304L stainless steel with a wall thickness of .065" runs smoothly from front to back, featuring factory-matched flanges at the inlets, bolting up right after the emissions equipment. A bespoke H-pipe and straight-through mid-muffler work together to produce an unprecedented deep, rasp-free soundtrack out of the Tacoma, with AWE's patented drone-canceling 180 Technology® resonators keeping drone-prone frequencies in check.




Perfect tone, compliments of AWE 180 Technology®.
Keeping the aggression at the rear of the Taco, and out of the cabin, is AWE's patented drone-canceling solution, 180 Technology®.
As exhaust gasses exit the 3.5L engine and flow into an AWE
180 Technology®
equipped resonator, they pass through strategically located ports, and into reflection chambers. Sound waves, carried by these exhaust gasses, bounce off the walls of the reflection chambers. By controlling the size and location of the ports and the chambers, we also control when the sound waves exit the chambers. The specific timing of when the reflected sound waves rejoin the main exhaust flow creates a one-hundred-and-eighty-degree out-of-phase sound wave that cancels out problematic frequencies.


Bringing up the rear:
Full-bodied aggression remains behind the driver, and complete comfort is achieved in the cabin at cruising speeds, all while unlocking a superior soundtrack and optimal flow compared to a single 3" diameter configuration. Each 0FG Catback features modular extensions for long wheelbase Tacomas, along with BashGuards™ for when things get rocky. You're looking at not only the Best Sounding Exhaust on the Planet™ for the Gen3 Tacoma 3.5L, but it's also the most versatile.


BashGuard™:
The 0FG modularity shines at the final breakpoint in the exhaust route. Not only does the 0FG have the ability to accommodate dual 4.5" tips, but it also accommodates AWE's BashGuard™. What's BashGuard? Thanks for asking. The AWE BashGuard™ is appropriately equipped with a .125" thick reinforced stainless ring of the exhaust outlet, tucked up really high out of the way of danger. Come as a set of two because it's a true dual.



Tip Options:
All tip options include the AWE logo and double-walling to ensure a mirror finish even under hard usage. The tip outlets, although conjoined, offer vertical adjustability, and the tips themselves are individually adjustable allowing depth into the bumper to be set according to personal taste.
4.5" slash-cut chrome silver tips


4.5" slash-cut diamond black tips


Last edited: