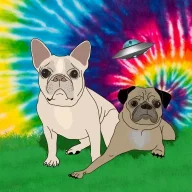 T3G Level: Legendary
Badministrator
T3G O.G.
Messages

5,652
Location
First Name

Tyler
Military

Marine Corps (Vet.)
Build Thread
T3G Member

#1
Love this forum because nobody is an asshole and if they are it's small enough for them to get the boot relatively quickly... lol
I recently deleted my TW account because of how toxic that forum is. Nearly every forum I click on is bloated with people in arguments

If possible, I'd love to see some more T3G merch. I have the current patch but a T3G logo patch would be sick too (maybe I've missed this in the past?)
and like a hat or t-shirt or something.
Been getting the mercy request for years. Unfortunately, I am a shit graphic designer despite ~15 years of messing with Photoshop types of programs. But like I mentioned above, the "store" is getting a huge overhaul and will have some new professionally designed goodies.
Tapatalk itself is a corrupt company and piece of crap app. But I'd love to have a native phone app. Overland Bound has a nice one that was custom developed but it costs SO much money.
I've been looking into a few other custom options, which are also expensive, but it would really take T3G to the next level. So yes, this is still pretty high on my priority list.